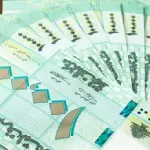 THE
LEBANESE LIRA
Banque du Liban (BdL, Arabic: مصرف لبنان, English: Bank of Lebanon) is the central bank of Lebanon. It was established on August 1, 1963, and became fully operational on April 1, 1964. It is currently headed by Riad Salameh.
One of the main responsibilities of the bank is issuing Lebanon's currency, the Lebanese Pound. Other responsibilities include maintaining monetary stability, regulation of money transfers, and maintaining the soundness of the banking sector. Banking is a very important part of Lebanon's economy with over 100 different banks, which makes the role of BdL particularly important. It currently owns 99.37% of the shares of Lebanon's national carrier, Middle East Airlines.[2] The BdL is also the dominant shareholder of the Intra Investment Company (IIC) which in turn owns 53% of Casino du Liban, making it the only central bank worldwide to rule over a Las Vegas-style gambling casino.[3]
what is the Lira Rate in Lebanon
?
Devaluation
Official government rate = LL 1,507.5; the government plans to move this gradually to 15,000
Official "Sayrafa" rate = LL 28,000 (September 2021)
"Lollar" (bank withdrawals of US$ in LL) = LL 8,000
Parallel market rate = LL 39,800
Lira Rate faq
, information about LBP Exchange Rate and more.